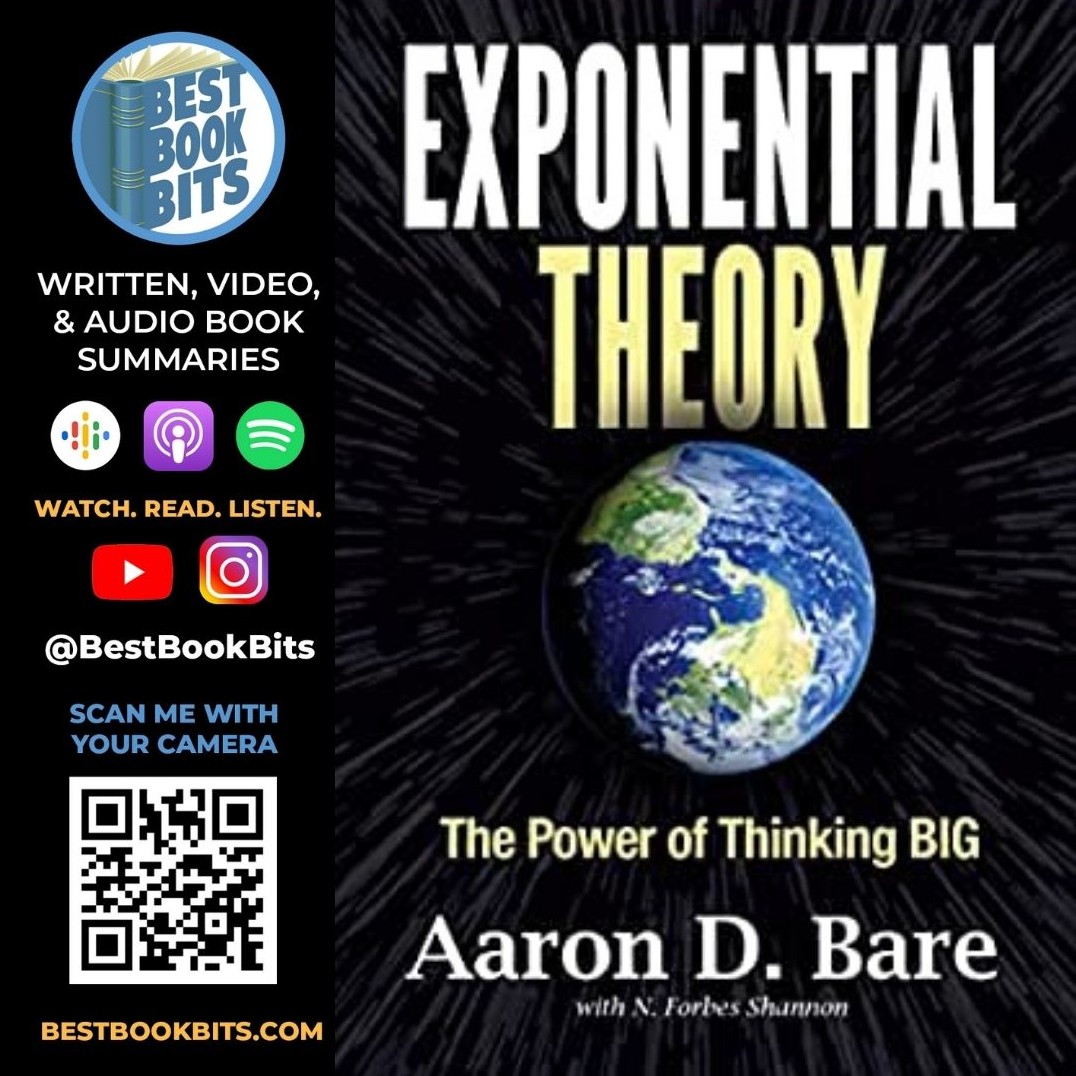 https://www.aaronbare.com/exponential-theory/
https://www.amazon.com/Exponential-Theory-Power-Thinking-Big/dp/1631956671
I solve problems, create, and sell stuff! Aaron Bare's life purpose is to create One-Million Exponential Leaders. He is the Wall Street Journal and USA Today Bestselling Author of Exponential Theory and the Creator of the XMBA (eXponential Mindsets, Beliefs, and Attitudes — Group Coaching Program), and the "XX Podcast; Two Exponentials in a Flat World." Beyond traveling to over 90 countries and all 50 States, Aaron has facilitated innovation and strategy at over 500 companies and appeared on 20 of the top 250 podcasts.
He is highlighted as 10 Leaders to Watch in 2022, listed on 50 under 50 Leaders, 40 under 40 Leaders, 35 under 35 Entrepreneurs, and one of his companies has been awarded "Most Innovative Company in the U.S." His award-winning digital strategy firm had clients such as Google, Council for Foreign Relations, Coca-Cola, Harley-Davidson, Dannon, Emerson, Comedy Central, Telemundo & Dell, where he built over 100 software projects focused on growth hacking leveraging the viral loop. Aaron is also a Certified Big Historian, Certified Professional Philosopher, and was the creator of the Oxford Leadership Online Certified Coach, which is closing in on over One-Million participants.
As a former Entrepreneur-in-Residence at Thunderbird School of Global Management at Arizona State University (Ranked #1 in Innovation, 7 years in a Row) and Singularity University at NASA Ames campus in Mountainview, California, Aaron has been exposed to some of the most repeatable, predictable, scalable, and sustainable business models. He currently focuses on helping individuals explore Ancient Wisdom, Repeating Histories, and Modern Science through his XMBA program that focuses on Unlearning, Reprogramming, and creating the Growth Mindset to ultimately create an eXponential Mindsets, Beliefs, and Attitudes. He also helps companies through customized solutions to scale their Exponential Leadership and Business Models. Aaron Bare holds an MBA from Thunderbird School of Global Management and an MA from Indiana University. He lives in Arizona.